Received from Dr. John Gallagher and Dr. Purba Hossain (University of Leeds)
Roundtable: New Histories of Language will take place on Wednesday 14th July 2021 between 15:00 and 17:00 online via Zoom.
About the event
This roundtable brings together scholars working on a variety of periods and geographical areas but with a shared interest in histories of language, to discuss new developments and directions in the field. It explores questions such as: how have historians approached themes like multilingualism, language mediation and language learning? What are the linkages between language and power, language and colonialism, or language and nationalism? How has the study of language histories changed over the years?
Supported by the Past and Present Society, and hosted by Dr John Gallagher and Dr Purba Hossain (University of Leeds), our speakers include Prof. Ardis Butterfield (Yale University), Dr Paul Cohen (University of Toronto), Dr Margaret Kelleher (University College Dublin), Dr Rachel Leow (University of Cambridge) and Dr Farina Mir (University of Michigan).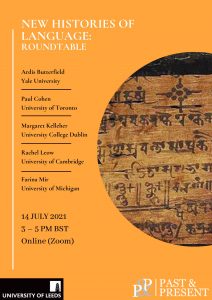 A version of the poster with a live registration hyperlink can also be dowloaded here.
Past & Present is pleased to support this event and supports other events like it. Applications for event funding are welcomed from scholars working in the field of historical studies at all stages in their careers.