our publications
Journal, Books and Supplements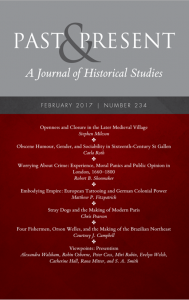 Past & Present is widely acknowledged to be the liveliest and most stimulating historical journal in the English-speaking world. The journal's contents reflect the Society's belief that history should be accessible and interesting to a wide range of readers, and its articles are intended to appeal to non-specialists as well as to experts. Since its inception in 1952, the mark of a P&P article was that it should be a properly researched study which showed an awareness of the wider implications of that research. Its remit is worldwide, and across all time periods.
There are four issues a year, each containing around seven major articles with occasional debates and review essays. Our authors come from around the globe, with about half of our articles written by non-UK authors. Subscription to the journal also includes the annual Supplement, which consists of a collection of essays (often the proceedings of Past & Present conferences and other symposia) reflective of the broad themes and ethos of the journal itself.
The Past and Present Supplement series was launched in 2006 to provide a forum in which to publish the proceedings of Past and Present conferences and other symposia, and collections of essays reflective of the broad themes and ethos of the journal itself. One volume will appear every year,
which will be sent out free to subscribers, but which can also be purchased by non-subscribers as a book. This will also be available online and will be, like the journal, fully searchable.
We welcome detailed proposals for possible future Supplements. Please send proposals to the editorial office.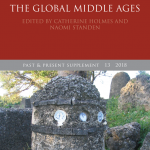 The Global Middle Ages (2018 Supplement)
Edited by Catherine Holmes and Naomi Standen
Global history did not begin with the European voyages of discovery. It did not start in the nineteenth century with a great divergence between the West and China. It is not synonymous with a globalization narrative. If we are to realise the full potential of a global approach to history then we must extend our chronologies and geographies. Bringing together historians and archaeologists of Africa, the Americas and Eurasia, this Supplement focuses on the abundant evidence for behaviour and interaction on a global scale in the millennium before 1500. The contributors exploit impulses such as connectivity and comparison, but do not seek direct analogies and connections between the Middle Ages and the global history of other periods. Instead, the social interactions, expectations and demands of people around the globe are foregrounded in chapters which explore recording cultures, cosmologies, networks, mobilities, value, trust, political mediation, settlements and cultural transmission. From these foundations, the Global Middle Ages are presented as a period of dynamic change and experiment, characterised by multiple options and potential pathways, when no single part of the world achieved hegemonic status, and when there is little evidence for the inevitability of a world order defined by globalization. The Global Middle Ages makes sense in two vital ways: first, as a period with distinctive characteristics; and, second, as a concept to think with, which is at its most powerful when scholars work collaboratively, inclusively and without eurocentric bias.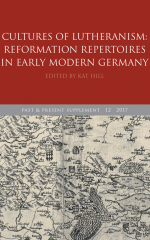 Cultures of Lutheranism: Reformation Repertories in Early Modern Germany (2017 Supplement)
Edited by Kat Hill
This Supplement provides a new cultural interpretation of the Lutheran Reformation in early modern Germany. It offers a collaborative account of the Reformation as a cultural event, and interrogates what Lutheran culture meant and how Lutherans were made. It goes beyond an account of theological arguments, confessional controversies, and ecclesiastical institutions, to consider how Lutheran culture remoulded men and women's experiences and forged new identities, and how the Lutheran Reformation transformed individual subjectivity. All the contributors explore the cultural repertoires offered by Lutheranism and available to individuals as they sought to negotiate the world of theology, sex and family, the past and future, or everyday experiences. Focusing on these repertoires in a variety of German contexts, the contributors explore how Lutheranism shaped new attitudes to the body; the ways in which Lutheran ideas and practices could affect emotions and the senses; how Lutheran ideas and practices produced new material cultures; how Lutherans used and shared spaces and co-existed with other confessional groups; and the importance of memory, providence and history. The essays examine cultural practices without neglecting the role of theology and ideas, and they also examine the diversity of reformation movements and shared contexts. They move beyond cultural histories which have focused on the 'high culture' of confessions, and examine a catalogue of repertoires whilst acknowledging that men and women deployed such repertoires in a variety of ways. They also provide a model for change by understanding how cultural options were used, altered, and transformed.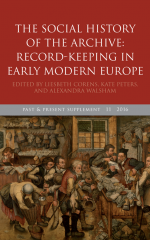 The Social History of the Archive (2016 Supplement)
Edited by Liesbeth Corens, Kate Peters and Alexandra Walsham
Archives are the factories and laboratories of the historian. Along with private studies and public libraries, they are the loci of our apprenticeship as scholars and the warehouses from which we acquire the materials to build the history we write. Until recently, however, scholars of the early modern period (as of other eras) rarely paused to consider how and why these repositories came into being, despite the fact that these processes have fundamentally shaped and coloured our knowledge of the past. Too often we mine the documentary sources they house without scrutinizing the decisions about selection, arrangement, preservation and retention taken by those responsible for the care of their contents over successive generations. We still fall into the trap of approaching them as if they provide a transparent window through which we can view societies remote from us in time. The tendency to regard archives as neutral and unproblematic reservoirs of historical fact is a legacy of the historiographical developments of the nineteenth century. It reflects the style of 'scientific history' synonymous with the endeavours of the Prussian scholar Leopold von Ranke, who, by elevating the empirical analysis of primary sources onto a pedestal, established the core methodological principles of History as a discipline. The fetischization of the archive of which we are heirs was a by-product of the pervasive positivism of an era in which the ideal of objectivity emerged as the philosophical hallmark of professional academic practice. It reflected the presupposition that the conscientious scholar could reconstruct what really happened with precision and accuracy. The same epistemological moment gave rise to the notion of the archivist as a passive and impartial guardian of the surviving traces of the past. This ethos of invisible custodianship underpinned the official repositories that grew up as an arm of the modern bureaucratic state and gave birth to a new class of civil servants.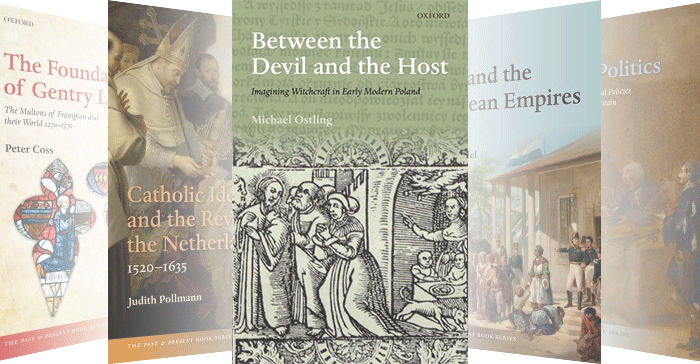 The Society has a long history of publishing books and collections of essays reflective of the broad themes and ethos of the journal itself. Encompassing a range of scholarly and original works primarily concerned with social, economic and cultural changes, their causes and consequences, these volumes endeavour to communicate the results of innovative historical and allied research in readable and lively form to a wide audience. The Past and Present Publications series was established in 1976 and comprises more
than 70 books by both established and early career scholars. Transcending chronological and geographical boundaries, the purpose of the series is to publish high-quality, cutting-edge work that has an appeal outside the specialist area of the author. The series was originally published with Cambridge University Press.
In 2009, the monograph series was re-launched with Oxford University Press as the Past and Present Book Series. Collections
of essays are now primarily published via the Supplement series.
We welcome proposals for possible publication in the series. Please send proposals to the editorial office.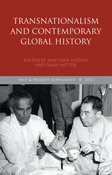 Matthew Hilton writes: In May 2013 Rana Mitter and I published the Past & Present Supplement, Transnationalism and Contemporary Global History. We were aware of a growing interest in the subject and wished to bring together some of the most exciting new research being undertaken around the world. Through a series of essays ranging from wartime China to decolonising Africa we wanted to explore the global spread of ideas, institutions and peoples, especially those that travelled along unexpected paths: hence articles on Indian influences on Kenya or on black Americans in China. Our period was confined to the middle decades of the twentieth century, though we were aware of much other work being conducted on modern history where scholars were exploring the notion of transnationalism.
Certainly, if the download statistics are anything to go by, there is clearly a growing demand for these types of histories. To mark the two years since the supplement was published, we have decided to make the entire volume freely available for a further three months. In addition, we have also made available in this virtual issue a number of other pieces on modern history that have been published in Past & Present over the last few years that might, in other circumstances, have found their way into such a supplement. As with the supplement itself, these will be available free of charge for a period of three months. This virtual issue marks the latest in a series of initiatives in which Past & Present will make parts of its extensive 'back catalogue' freely available through the exploration of various historical themes and subjects.
We welcome new submissions for the journal in all areas. More information for authors, and detailed submission guidelines, can be found here. The online submission website is here and queries can be directed to the editorial office.
Viewpoint articles: with great success Past & Present recently re-introduced Viewpoint articles to the journal and we particularly invite submissions of Viewpoints. These should seek to provoke or advance debate, to open up new questions, to define the state or direction of a particular field, to shape trends in historiography at a more general level — always in a way that is comprehensible to non-specialists. They might be relatively specific/substantive with respective to area and period or more theoretical. Viewpoint articles would generally have a less formal character than journal articles. The scholarly apparatus of research articles need not be applied so rigorously: polemic could have a place, there might be less need for careful nuance or qualification, or for comprehensiveness of coverage, footnoting could be light, and style could be more individual. These pieces could be flexible in form. Two people (or more) might wish to collaborate on an exchange of views. (We think the difference between such exchanges and our Debates would be that they would not focus on one article). We are flexible in relation to length, but our preference is for Viewpoint pieces which are shorter than articles so that they stand apart.
Please note that we are now practising double-blind reviewing. Submitted texts should therefore be rendered anonymous (you may, if you wish, also submit a separate title page giving author details and acknowledgements).
We hope to reach decisions on most submissions well within four months (and certainly no longer than six), and we will contact you if the refereeing process takes longer than this. We also offer advance access publication, which allows for swift online publication in advance of the print issue.
We know that many authors will want to make their work freely available online and we would like to support this. Authors may deposit the 'accepted manuscript' version* of their articles in institutional and centrally organized repositories, with an embargo period of 24 months from publication. UK authors should note that articles published in Past & Present are therefore eligible for the post-2014 REF. Further details about self-archiving can be found here. We also offer authors the option of paying an APC (article processing charge) to publish their work freely online immediately on publication.
However, we wish to emphasise that no author is obliged to pay any charge in order to publish in P&P. All our decisions about publication will be taken regardless of whether an author chooses to pay an APC or not. The quality of the work is the only criterion for publication.
* The 'accepted manuscript' version of an article is the final draft author manuscript, including modifications based on referees' suggestions but before it has undergone copy-editing and proof correction.
We welcome detailed proposals for possible future Supplements. Please contact the editorial office in the first instance.
We also welcome proposals for possible publication in the book series. Please contact the editorial office in the first instance.